Winning Innovation
Winning Innovation: A Novel by Norbert Majerus with George Taninecz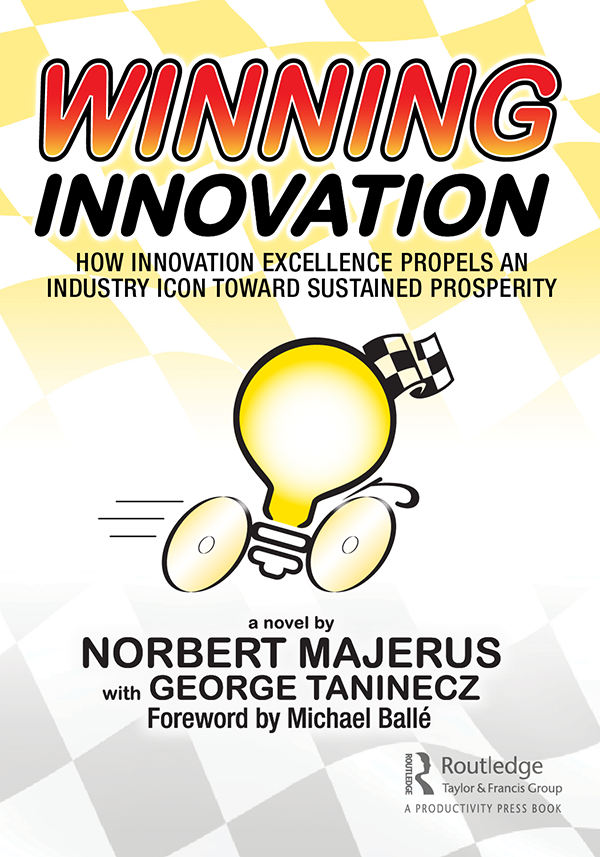 Summary
Not just the story of an R&D transformation, Winning Innovation illustrates a company-wide
transformation of a magnitude that only superior R&D can make possible. It may well be the
first book to chronologically introduce the principles for a complete innovation excellence
transformation along with the parallel people transformation that is necessary for real change to occur. The end result for Davanti Nella Gara is a dominant new culture based on respect and
humility; highly efficient processes that will deliver a wealth of innovations, sales, and profits for many years to come; and an owner who leaves a bright future for the people and company he's known and loved his entire life.
The Story
Davanti Nella Gara, an Italian bicycle company, makes the best racing bikes in the world. But
after decades of market dominance, competitors have brought the industry leader back to the
peloton. The company's second-generation owner longs for retirement, but a tired product lineup is pushing down profits and the firm's market value will never support his ride into the sunset.
The flawed but beloved owner seeks out the counsel of an old friend and successful
businessman, who steers him toward a fast and remarkable transformation, one fueled by a
relentless focus on innovation excellence.
An engaging business novel, Winning Innovation dives into the art and science of innovation; the thrills of the European bike-racing circuit; the vibrant landscape and cuisine of Italy; and a cast of intriguing characters who work to put Davanti on the road to sustained prosperity. The company's leader isn't afraid to learn and apply new ideas to re-energize his company and finds he cares more about his employees than he could ever imagine. A young innovator struggles to see a product idea to fruition as well as rise into management — and he falls in love along the way. A newly promoted R&D director brings teamwork and transparency to product development and aligns the entire company around innovation.
With the help of a seasoned and persistent change agent, in just a year Davanti deploys a well-defined and sequenced transformation — a complete and seamless process that can be replicated and scaled by most companies. The leader engages associates in pursuit of the right vision and strategy, candidly supporting them all as they unleash their creative sparks, work through personality conflicts, and take on real-world challenges faced by companies every day.
They learn and apply traditional R&D principles in new ways (e.g., cost of delay, sprints, fail fast, late start) and successfully leverage emerging innovation and change-management principles (e.g. idea-creation events, knowledge management, workplace humility, visual management, lean project management). And an aligned, three-phase innovation process — from idea creation to technology development and product design — provides the innovation infrastructure the company needs for revenue creation and success beyond racing bikes.
From a top-heavy organization dominated by power struggles and fingerpointing emerges a new
Davanti Nella Gara — a flattened, innovative company with:
Clear vision and endorsed goals and strategy
Speed, responsiveness, and agility
Widespread, successful creativity
Collaboration and teamwork
Superior risk management
Respect for people
Unquestionable ethics
Changed leadership and associate behaviors
Project management excellence
Rapid problem-solving and experimentation
Table of Contents
1. Chain Reaction
2. Junior's Sicilian Dream
3. From Mind to Lab
4. Riding an Idea
5. Innovation Excellence Begins
6. 100 Ideas
7. Challenging Changes and Chains
8. Lost in the Shadows
9. Seeing Is Believing
10. New Way of Working
11. A New Organization
12. New R&D Culture Emerges
13. New Organization, New Goals, New Direction
14. A New Approach to R&D
15. New Davanti and R&D Strategies
16. Transformation Metrics
17. New R&D Function Takes Shape
18. Bikes without Wheels

19. Davanti at the Tour
20. The Product Creation Process
21. Davanti Ramps Back Up
22. Transparency Comes to Davanti
23. New Ideas and New Revenues
24. New Ways of Leading and Managing
25. Davanti Starts to Look Lean
26. Davanti Innovations Pick Up Speed
27. R&D Strategy, Metrics, and Huddles
28. Results to Celebrate
29. New Year for a New Davanti
30. Calling 118
31. Do the Right Thing
32. Features of Failure
33. Mo, Marie, and Leonardo
34. Davanti for Sale
35. Davanti Ever After

Featured Media
About the Author
Organizations